Limited Spaces Available! For reservations call . Spaces are extremely limited this time of year so book early to ensure the date you want.
Tour Prices
| | |
| --- | --- |
| Adults | $ 89.00 |
| Child (4 & Up) | $ 89.00 |
Tour Information
Tour Duration: 5 Hours
Departure Times
8:30 AM
Included in Price
One of three options:


Trip to Lucayan National Park with lunch included
Trip to Garden of the Grove tropical gardens with lunch included
Trip to both the Lucayan National Park and the Garden of the Grove tropical gardens (lunch not included but can be purchased at the gardens)

Door-to-door transportation in air-conditioned mini-buses
Additional Notes
Please note that this tour goes to one of two destinations: Option 1 is to the tropical Garden of the Groves wher eyou get to browse tropical gardens, then go an arts & crafts village for souvenir purchases, and finally to a private beach for swimming and relaxing; Option 2 goes to the Lucayan National Park where you get to leisurely walk through several ecosystems including caves and then head to Gold Rock Beach for swimming and relaxation. Please contact our offices to find out which option will be available during your stay
Many days, we go to both destinations. On these days, however, the lunch is not included but can be purchased from a gourmet restaurant at the tropical gardens. Lunch options include sandwiches, wraps, local favorites, and much more.
5 Hour duration
Distance approx. 40 miles
PLEASE NOTE: Any reservation for a tour date of January 1, 2015 or later will be subject to a new Bahamas government VAT (Value Added Tax) of 7.5%
Check List Recommended
Camera
Comfortable cloth
Sunglasses
Grand Bahama Island Jeep Safari Tour
If you are looking for an adventure that takes you beyond the surface of Freeport's coastline, sign up for this thrilling excursion into the interior of Grand Bahama Island. You can hop into your own jeep and follow an expert guide for some off-roading fun into the center of the island. Along the way, you will encounter countless plant species and breathtaking views of the Caribbean. This tour mixes an exhilarating ride with deep insight into the mixture of ecosystems that make up the tropical paradise of this amazing island.
As you drive along the coastal path in your open air jeep, you watch the clear blue water and sandy shore give way to evergreen forest. The trail snakes up into the hilly interior until you reach the sight of Grand Bahama Island's unique natural wonder the mesmerizing inland blue hole. From there, you can return to the shore to relax on the beach and sample some delicious local fare. After crossing Freeport's famous Casuarina Bridge, your jeep convoy will take you to another beautiful beach where you can enjoy the tranquility of the Caribbean's clear waters and white sand.
Included in your safari is a visit to the Lucayan National Park where you will encounter a fascinating underwater cave system, one of the largest in the world. The park also consists of several diverse ecosystems, including pine forest, blackland coppice, rocky coppice, mangrove swamp, whiteland coppice, and shoreline. You can end your adventure with some shopping at a local crafts market or with some more beachside relaxation.
On this tour, your guide will bring you to some of the most remote areas of Grand Bahama Island and enrich your understanding of its natural wonders. This is a great opportunity for families or anyone interested in nature to really take in all the island has to offer.
Grand Bahama Island Jeep Safari Tour Highlights
Drive your own 4x4 open top Jeep in a convoy, led by an experienced island guide.
We travel excellent roads with little traffic as well as off-road through pineforest and along a scenic coastal trail.
Visit one of two great destinations: Destination 1: Lucayan National Park, where you walk through several ecosystems and see the Lucayan caves and enjoy a light picnic lunch on Gold Rock Beach. Destination 2: Garden of the Groves, where you walk through tropical gardens, stop by an arts & crafts village, and end at a private beach
Many days, our tour goes to both destinations! (On these days, the lunch is NOT included but can be purchased from a delicious menu with sandwiches, wraps, and local favorites).
Please call for most up-to-date schedules!
Reserve Your Spot Now »
What is the weather cancellation policy?
If the activity must is cancelled due to bad weather, and you cannot reschedule, you will be issued a full refund.
Is lunch provided on this tour?
Yes, a light lunch is provided on this tour.
Who is responsible for driving the jeep?
You will drive your own 4X4 open top jeep in a convoy, led by an experienced island guide.
Is hotel pick up included in the cost of the trip?
Yes, hotel pick up is provided at no charge on this trip.
Where is the departure point for this tour?
Check-in instructions will be included in your activity confirmation email.
What Am I required to bring?
Please bring your email confirmation, towels, sun screen and form of payment for your remaining balance.
You are responsible of making sure you are aware of and understand all restrictions pertaining to this tour before booking online or over the phone. It is your responsibility to ensure that you are medically qualified and within any limits listed below in order to participate in this activity. No refunds will be given to those who reserve a spot and can not participate due to the restrictions listed below. For full details on our cancellation policy click here or with any questions regarding your ability to participate call our staff at with any questions.
Tour Restrictions
Primary diver must be 25 years old or older, with a valid drivers license
Cruise ship guest MUST BOOK through the cruise ship
We always need at least 8 passengers to run these tours
Tour destinations vary by day; please call for most up-to-date information
| | | | | | | |
| --- | --- | --- | --- | --- | --- | --- |
| Mon | Tue | Wed | Thur | Fri | Sat | Sun |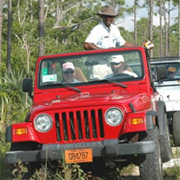 For reservations book online or contact us at (800) 688-5871 for more information