Limited Spaces Available! For reservations call . Spaces are extremely limited this time of year so book early to ensure the date you want.
Tour Prices
| | |
| --- | --- |
| Full Day | $ 800.00 |
| Half Day | $ 695.00 |
Tour Information
Tour Duration: 4 Hours / 8 Hours
Departure Times
8:00 AM
1:00 PM
Included in Price
Price includes bait, fishing license, and fuel.
Transportation from hotel and cruise ship dock
Additional Notes
Price Covers 2 Anglers
Price includes bait, fishing license, and fuel.
Price does not include gratuities.
Check List Recommended
Sunglasses
Sunblock
Towel
Extra money for gratuity
You will not find a better person to take you out for some serious Bahamian bonefishing than two-time bonefish champion Simon Bain. Bonefish Simon offers you a one-of-a-kind opportunity to pursue an awesome catch in the shallow waters around New Providence Island. With his expert advice and intuitive local knowledge, Simon is sure to make your day on the water enjoyable and successful.
Bonefish Simon Bain is one of the most famous fishermen in the Bahamas and the best authority on bonefishing in the islands. His motto, Catching Not Fishing, illustrates his love of the sport and his drive to offer all guests on his trips the ultimate bonefishing experience. Simons exclusive two-hand Pull-Wait-Push (PWP) casting technique has helped him win fishing championships and established his name as a top fisherman in the Bahamas.
Simon will take you to the prime spots to catch bonefish off the coast of Nassau. His fast 17-foot Action Craft will rapidly transport you to the isolated flats where bonefish thrive. After poling into the warm shallow waters that the bonefish inhabit, Simon will provide you with the best rods, reels, and bait to attract the feisty bonefish. If you are not very familiar with fly-fishing or need a few extra pointers, Simon can give you some professional instruction to improve your casting technique. Enjoy the thrill of reeling in a fighting bonefish in the beautiful tropical surroundings of the Bahamas. You can also angle for other sport fish, such as tarpon and snapper, as you cruise through the salt water estuaries.
Experience the difference with this enthusiastic bonefish expert on your trip to Nassau. After a day of fishing with Bonefish Simon, you will have an awesome story to take home to your family and friends.
Bonefish Simon Highlights
Equiped with rods, reels & bait
Can hold up to 2 Anglers
Hotel & Cruise Ship Transfers Included
Fly Rods & Spin Casting Available
Reserve Your Spot Now »
What is the weather cancellation policy?
If the activity iscancelled due to bad weather, and you cannot reschedule, you will be issued a full refund.
How long is each Fishing Trip?
1/2 Day Trips = 4 Hours, Full Day Trips = 8 Hours
Are food and beverages included?
No they are not, however you are more than welcome to bring your favorite foods and beverages and we will provide a cooler and ice to keep them fresh and cold for you.
Are alcoholic beverages allowed?
Yes, alcoholic beverages like Beer, Wine, and Wine Coolers are allowed. However, for everyone's safety, Glass containers are not permitted - metal or plastic containers only please.
Is fishing gear provided?
Yes, top-of-the-line fishing gear is provided.
Is bait provided?
Yes. Bait is provided on all of our fishing trips.
What is the customary gratuity?
If you enjoyed your trip and are satisfied with the service provided by our Captain and Crew, a tip of 15-20% of the total trip cost would be very much appreciated.
You are responsible of making sure you are aware of and understand all restrictions pertaining to this tour before booking online or over the phone. It is your responsibility to ensure that you are medically qualified and within any limits listed below in order to participate in this activity. No refunds will be given to those who reserve a spot and can not participate due to the restrictions listed below. For full details on our cancellation policy click here or with any questions regarding your ability to participate call our staff at with any questions.
Tour Restrictions
| | | | | | | |
| --- | --- | --- | --- | --- | --- | --- |
| Mon | Tue | Wed | Thur | Fri | Sat | Sun |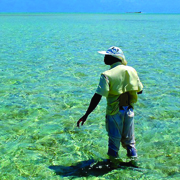 For reservations book online or contact us at (800) 688-5871 for more information